The Michael I. Arnolt Center for Investigative Journalism teaches and produces high-quality investigative journalism.
Funded by a $6 million gift from alumnus Michael Arnolt (BA'67, journalism), the center is based in The Media School at Indiana University.
The nonprofit, nonpartisan center conducts multimedia investigative reporting on issues of importance to the residents of Indiana, including matters that reach beyond the state's borders. The center's work is available at no cost to local, regional and national news outlets and seeks to supplement their reporting at a time when many are losing newsroom staff.
Master of Science and undergraduate students do the reporting, providing them with an opportunity to learn in a real-world setting. Initial funding provides fellowships for up to four graduate students and scholarships for as many as 10 undergraduates.
Before the establishment of the Center, IU administration agreed with the donor's request to include specific language in the gift agreements ensuring the complete editorial independence of the Arnolt Center for Investigative Journalism: 
"So as to guarantee the journalistic integrity of the activities of the Center, the Donor and Indiana University understand that the Center shall be fully free and independent with respect to journalistic and editorial decisions. Journalistic decisions, based on the principles of Freedom of the Press, shall rest with the director of the Center."
This language is reflected in the center's charter, guaranteeing its editorial independence from The Media School and from Indiana University.
For more information, email the center at contact@arnoltcenter.org.
Director
Kathleen M. Johnston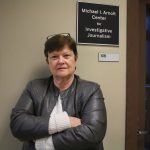 Kathleen Johnston, a 30-year veteran of investigative journalism and a Media School professor of practice, is the center's founding director.
Johnston, an IU alumna, has worked at numerous national and local news organizations, from The Indianapolis News to CBS, the Birmingham Post-Herald to CNN. Her work spans a breadth of topics and media, but her primary focus is investigative reporting.
She has won numerous regional and national honors, including Emmy, Peabody and Murrow awards. In 2017, she received The Media School's Distinguished Alumni Award.