BLOOMINGTON, Indiana – A $100,000 gift from Indiana University alumnus Michael Arnolt, BA'67, will fund scholarships for journalism students of color.
The Media School will award the Michael I. Arnolt Diversity Scholarship each year to an incoming freshman interested in studying investigative journalism and a returning student active in the Michael I. Arnolt Center for Investigative Journalism. The freshman scholarship, of up to $5,000 per year, may be renewed annually through the undergraduate period and is intended for a student from Indiana. The returning student scholarship is a one-time award of $5,000, preferably for a student from Indiana.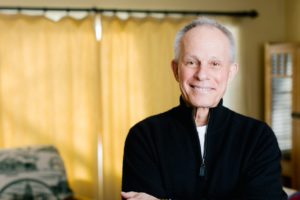 "It's the job of a journalist to report on topics and issues well beyond the scope of one's background, and I do give credit to former and current reporters to gain the understanding and knowledge, combined with empathy, of every topic which comes before them," Arnolt said. "And though I think we, past and current reporters, have covered a sundry of topics and situations with excellence, the need for diversity in color and consciousness among the journalism profession has long been evident."
Arnolt, who earned a Bachelor of Arts in journalism from IU Bloomington in 1967, spent the first five and a half years of his professional career as a reporter for The Elkhart (Indiana) Truth. He later transitioned to private business, becoming the co-founder of Graston Technique, a physical therapy method adopted by clinicians, outpatient clinics, university advanced degree teaching programs and more than 450 amateur and professional sports organizations across the U.S., Canada and Europe. Despite the career change, he maintained his passion for and belief in the responsibility of journalists to uphold the watchdog function of the news media. He remained in Indiana, now living in Indianapolis.
"This is a remarkable and timely gift from Michael, who already has given so much to advance investigative journalism with his very generous donation that started the center," said professor of practice Kathleen Johnston, director of the Arnolt Center. "We have a number of students of color working in the center, and now we will be able to help ease some of their college financial burdens thanks to Michael's generosity. Students awarded this scholarship can focus on learning to become investigative journalists instead of worrying about college bills."
Eligible high school students will be identified by their IU applications and/or Selective Scholarship Applications, and returning students will be considered based on The Media School's general scholarship application, which goes live in December.
The Arnolt Center was established in The Media School in 2019 thanks to a $6 million gift from Arnolt. The center teaches and produces high-quality investigative journalism and provides it to local, regional and national news outlets.